Sage HRMS
Sage HRMS, formerly Sage Abra, is an entry-level, fully-integrated, HR and payroll solution built around Return On Employee Investment™ (ROEI). Sage HRMS is an integration of multiple HR solutions from Sage and partners which cover all aspects of HR and Payroll including benefits enrollment, talent management, learning management, time and attendance and performance management. Sage HRMS was selected as the "leading on-premise HRMS option for companies with fewer than 1,000 employees" by Forrester.
Employee self-service access to Sage HRMS is available through Sage Employee Self Service (Sage ESS). Sage ESS allows employees and managers to view and update personal information, manage vacation time, benefits changes, job details and performance reviews. This self-service access is complemented by Sage HRMS HR Actions® which enables the creation of paperless forms using any fields from Sage HRMS - the collection and approval of data collected through these forms can all be achieved through the self-service access available to employees and managers.
Reporting functionality is built into Sage HRMS with over 100 standard reports available. Employees and managers can access data for report building through interactive dashboards which can be customized to tailor the layout and data displayed to the user. Data can be displayed on shareable dashboards through ready-to-use charts, maps, gauges, progress bars etc. This functionality is provided by SAP Crystal Dashboard Design® for Sage HRMS. Organizational reporting can also be undertaken using Sage HRMS OrgPlus which helps visualise the current company architecture through the systems charting tool. Charts can be used to analyze future workforce restructuring and other "what-if" scenarios.
Users of Sage HRMS include Virginia-based community bank First Bank, architecture and development services firm GreenbergFarrow, and Eagle Rock Distributing Company.
Software features
Quick spec
Product details
Software Features
Absence Management
Benefits Enrollment
COBRA
Compliance
Employee Self Service
FMLA
Manager Self Service
On & Off Boarding
Payroll
Performance Management
Recruitment
Reviews
Time & Attendance
Training & Skills
Vacation & Sick Leave
Workflow
Workforce Analytics
Organization Size
Medium (251-1000 Employees)
Small (1-250 Employees)
Platform
Product Info
Download more information

Sage HRMS
Download your extended software profile for Sage HRMS. Get more information about features and pricing.
Download

Sage HRMS
Download your pricing guide by completing the form below.

Sage HRMS
Complete the form below to access a video demo of this software.
Quickly Compare with Similar HRMS Systems
Other Users often Compare these Four Solutions
Sage HRMS

Criterion HCM

PowWowHR

UltiPro for Canada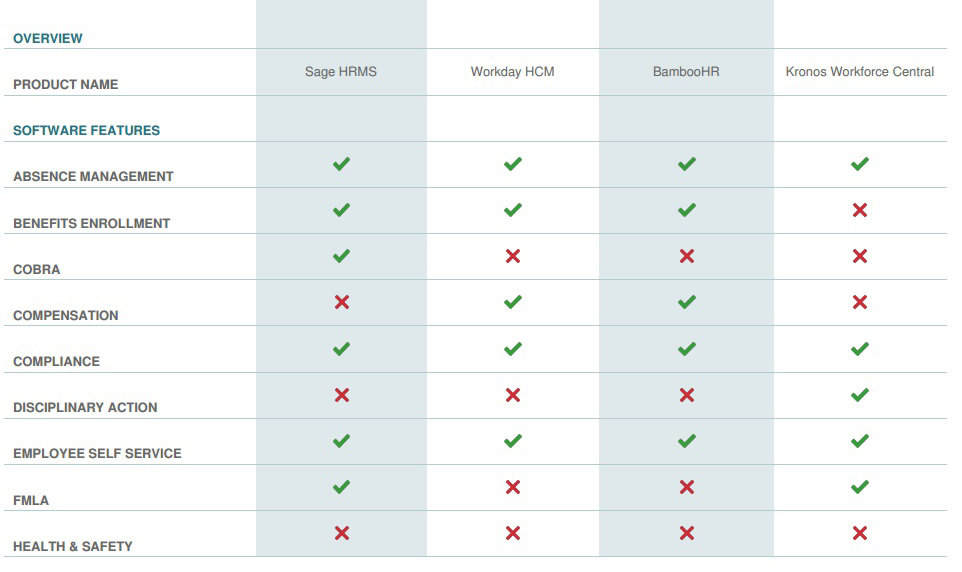 Get Your HRMS Software Comparison
Download your bespoke report in a single pdf.
Sage HRMS
Extended Software Profile

Sage HRMS
Get your extended software profile by completing the form below.
Sage HRMS
Extended Software Profile